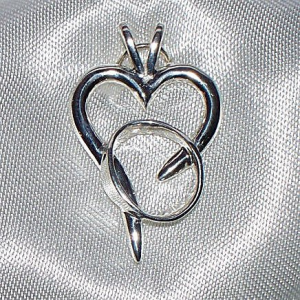 Rebecca's Hope Pendant
Alzheimer's Awareness pendant ©
Heart
The Heart has a beginning and an end. It is broken which represents the courage and the struggle within.
OVAL
The Oval represents the mind and the devastating effects this disease has on our loved ones.
This beautiful pendant is sterling silver and was created in memory of Rebecca Qualls.
Designed and made in northern Michigan the Rebecca's Hope pendant is sold only at Gardiner's Jewelry and at Gardiner's Jewelry.com.
Rebecca's Hope Pendant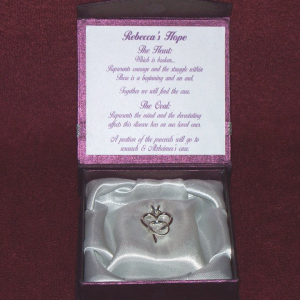 Help us fight Alzheimer's
Help fight a disease that is taking more than 4 million lives a year. We need to fight back and make a difference . The hope is that this pendant will enable us to help fight back. A portion of the money from the sales of this pendant will go to Alzheimer's research and care of those dealing with this awful disease.
THE MAKING OF REBECCA'S HOPE PENDANT
Alzheimer's awareness pendant
Mould
A mould is made of the original model or sculpture. Once the mould is finished, molten wax is injected into it. The wax copy is left to cool and harden and then is removed from the mould.
Spruing
The wax copy is sprued in a treelike structure of wax that will eventually provide paths for the molten casting material to flow and for air to escape. This is attached to a base and weighed.
Vacu film
We dip the wax tree in vacu film which reduces surface tension. This keeps the wax from having air bubbles when invested.
Investing
Then the flask is lowered over the waxes. The investment is mixed up and poured into the flask.
Vacuum Investment in Flask
This removes air that might have been trapped around the waxes and still in the investment from pouring.
The burnout process in the kiln
Once the flask is ready it goes in the kiln and starts the burnout process. This burns the wax out and leaves an impression to pour the metal into.
The Crucible
The crucible is heated red-hot before the metal is placed in it. Then the metal is melted. The flask is taken out of the kiln while it is still hot. The crucible is positioned over the flask . The metal is poured into the flask.
Quench
The flask is completely submerged in water. This will cool the castings.
Cleaning the Casting
The casting is cleaned by removing the investment. Then pendants are cut apart and the sprues are removed.
Polishing up the casting
The casting is then polished up so it looks like the fine piece of jewelry we sell on this site.
The finished piece
The pendant all polished up and ready to be placed in a box.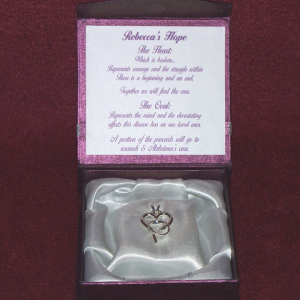 Placing in the box
The Rebecca's Hope pendant has a beautiful box with its story. Now it is ready to be shipped out. Gardiner's Jewelry Rebecca's Hope.